Rebecca Kafetzis, Scholarship recipient: Contributing to a more sustainable and socially conscious world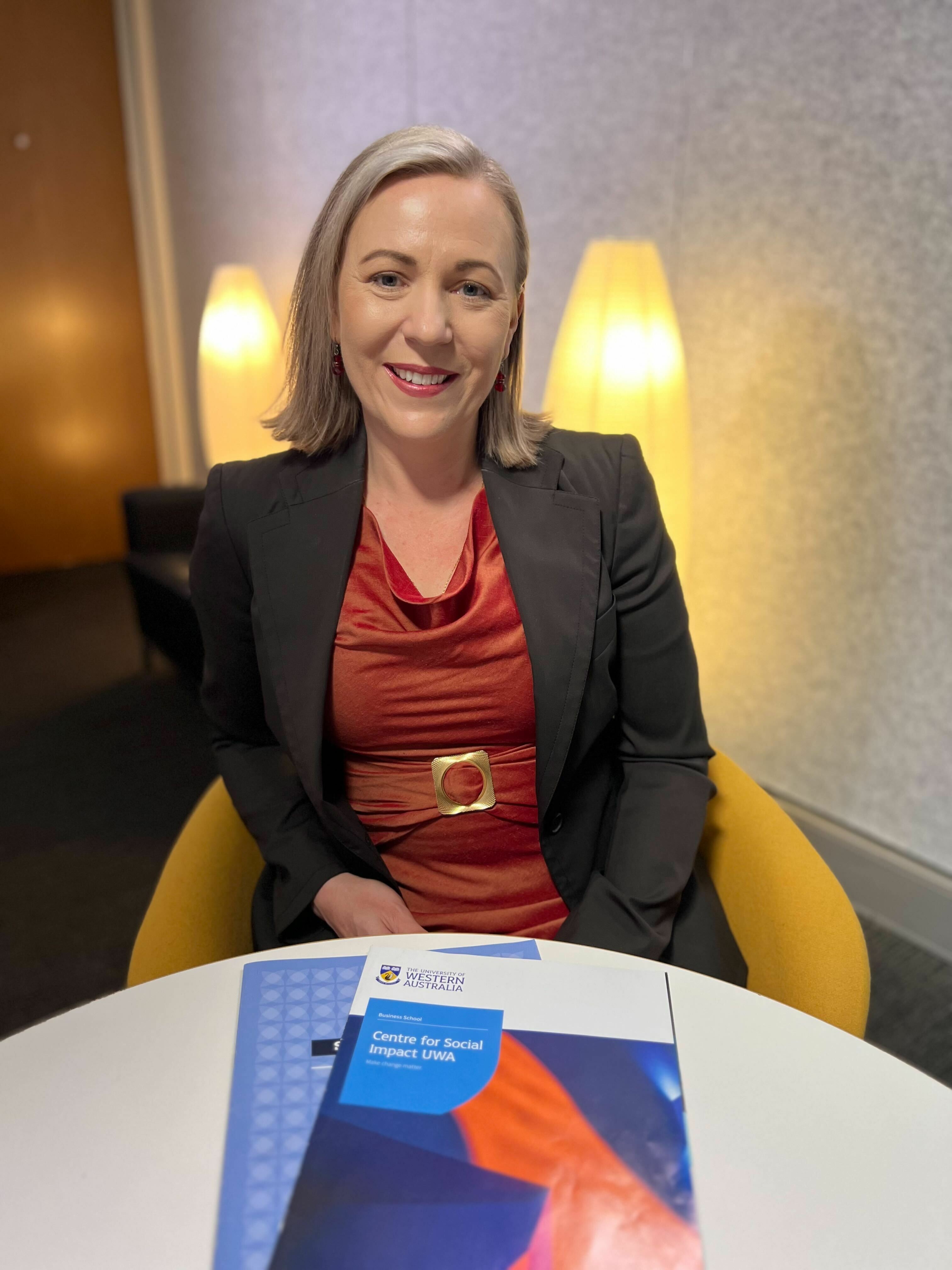 "My only regret is not pursuing this degree sooner… I genuinely believe in service over self and the lasting changes that can benefit both communities and organisations."
With over two decades of experience in the community services sector, Rebecca Kafetzis is deeply passionate about the positive impact organisations can have in creating successful outcomes for individuals and drive forward social progress.
Beginning her career as a Couple and Family Counsellor for Relationships Australia, she spent the next 18 years working in various roles at the Department of Communities WA.
"My career has encompassed diverse roles within the government, not-for-profit, and Aboriginal Community Controlled Organisation (ACCO) sectors.
With a deep understanding of the complexities and challenges within the community services sector, especially in relation to Aboriginal culture, I have extensive experience in delivering culturally appropriate and human rights-focused services across Australia.
Over more than two decades, I have worked in various domains, including out-of-home care (OOHC), child protection, homelessness, disability services, mental health, and counselling services."
In 2022, Rebecca moved into the role of Executive Manager, Strategy and Innovation at Yorganop Association Incorporated, and was awarded a scholarship to study the Graduate Certificate in Social Impact at The University of Western Australia.
"As an Executive Manager of an Aboriginal Community Controlled Organization (ACCO), I felt compelled to enhance my professional capacity across corporate, government, and not-for-profit sectors. This graduate certificate equipped me with the critical leadership skills necessary for managing organizations, businesses, and social programs".
Yorganop is Western Australia's only Aboriginal foster care agency, working in partnership with government agencies and carers across WA to provide safe and secure homes and care for Aboriginal children. They also provide support and guidance so that Aboriginal children stay connected with their culture, to promote a clear sense of belonging, identity and self-worth. And ensure every child fulfil their potential and thrive – socially, emotionally, and in life.
A transformative learning experience on social impact
Rebecca says that completing the Graduate Certificate in Social Impact has been truly transformative, fundamentally altering her perspective on the world and her role within its dynamic ecosystem.
"The insights I've gained have empowered me to adopt a human-centric focus, highlighting the significance of compassion, empathy, and social responsibility".
From a practical standpoint, Rebecca is now equipped with the tools and skills to engage in:
Environmental, Social and Governance (ESG) reporting,
social impact measurement, logic models and theory of change
business model development and cost-benefit analysis,
philanthropy, fundraising, grant-making,
social investment,
various other aspects such as social design thinking, social innovation, social entrepreneurship
"Armed with this newfound knowledge, I am inspired and dedicated to making a positive impact on society and contributing to a more sustainable and socially conscious world."
From social impact student to tutor
In addition to being honoured with a National Centre for Social Impact scholarship, Rebecca also received the 2022 Julie Michael Memorial Award, and recognised as the highest-achieving post-graduate student in the field of Social Impact and Leadership.
Since then Rebecca has been invited to become a tutor at The University of Western Australia under the Indigenous Tutorial Assistance Scheme across UWA.
"At UWA, there is a unique emphasis on fostering networking and stakeholder engagement, which has enriched my educational experience significantly", she says.
"While this is facilitated through group assignments, there is a balance with individual assignments and reflective learning. I found the true richness of my learning in these moments and have cultivated meaningful network connections and lasting friendships."
"In addition to the students who make this an incredible journey, the degree would not be what it is without the teaching and support staff – my heartfelt thanks go to Paul Flatau, Renu Burr, Katie Stubley, Kylie Hansen, Elena Douglas and Mags Martin, our amazing admin support)"
Paul Flatau's guidance and mentorship have been invaluable throughout my career and my academic journey.
Renu Burr's leadership and personal transformation in the social impact and business sector are truly remarkable.
Katie Stubley's inspirational teaching on social design and systems change challenged my thinking and approach to social impact.
Kylie Hansen's instruction in impact strategy, measurement, social enterprise, and impact investments is cutting-edge, providing me with new insights and empowering me for the future.
Elena Douglas introduced me to the world of social entrepreneurs, social enterprise, and innovation.
"I have also thoroughly enjoyed becoming part of the UWA Alumni and the Social Impact community, which regularly convenes at various events throughout the year."
"The networks that you make in this course are long standing. If I'm stuck with something at work, I'll reach out to one of my networks that I've made through the course. It's very real and tangible and it's something that you will take with you on your social impact journey."