Pepita Wilson: Keeping Kimberley languages strong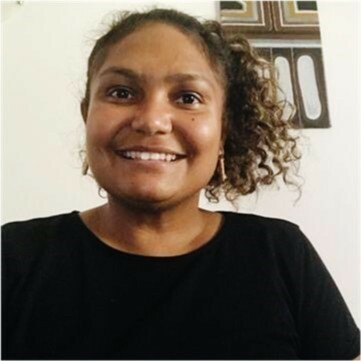 On a personal journey to learn her own language, 2023 CSI UWA scholarship winner Pepita Wilson, is determined to make a difference for Aboriginal people across the Kimberley.
Pepita is a proud Kija, Nyul Nyul and Mirruwong Gajjerong woman from the Kimberley. She has worked in State Government supporting her community in gaining access to training and employment as well as contributing to Aboriginal workforce development within West Kimberley. She has also spent 18 months in the corporate sector which has given her skills and experience that she wanted to transfer and build upon in her role within Kimberley Language Resource Centre (KLRC).
"With over 42 languages, dialects and Auslan in our unique region, my role at Language Centre is to help look after the languages, whether it is assisting our mob to awaken their sleeping language, looking at ways to conserve languages that is culturally appropriate and to assist community to teach language in three generations. As the KLRC Project Manager, I am responsible for delivering projects to realise our mission of "Keeping our Languages Strong". "
Based in Broome, Pepita coordinates language projects across the region, in partnership with Aboriginal communities, language practitioners and key stakeholders, organisations and peak bodies. Her role also involves making sure that all projects are community-led, designed and delivered in a culturally sensitive manner, in line with organisation policies that are developed by the Board.
A social impact course for effective advocacy in the community
When she was looking for a course to gain further skills that would help her advocate for her community, Pepita enrolled in the Graduate Certificate in Social Impact at The University of Western Australia.
"After being in community development for over a decade, I think that this course will help me improve how I contribute to my community. I want to be able to show how language programs can help with the social and emotional wellbeing of my people," said Pepita.
"I want to prove that being on country helps building generations of Kimberley people that have resilience to start their journey of self-determination. I think the social impact course will teach me how I can connect two worlds for the betterment of society."
Pepita is also Co-Founder of We Got Game AFLW Academy based in Broome. Her vision is to help women be the best player they can be and spark their passion for the game.
"Living in remote and regional areas, there are limited opportunities for women, and, in the Kimberley, we have a large population of people with a low socio-economic background. This can affect participation in sport. We Got Game is a free program for players and club members. Sports help get and keep my mob healthy."
"I would like to say thank you to the Centre of Social Impact and their funders as the scholarship would help me afford the travel to attend blocks at the university and I can commence my units with worrying about the financial burden on my family. The cost of living in remote and regional areas can prevent our mob going on and gaining higher educations and upskilling. It also means that my Language Centre would not need to seek out funding sources to support my professional development and we can allocate more resources to Kimberley Languages."