The Centre for Social Impact celebrates 15 years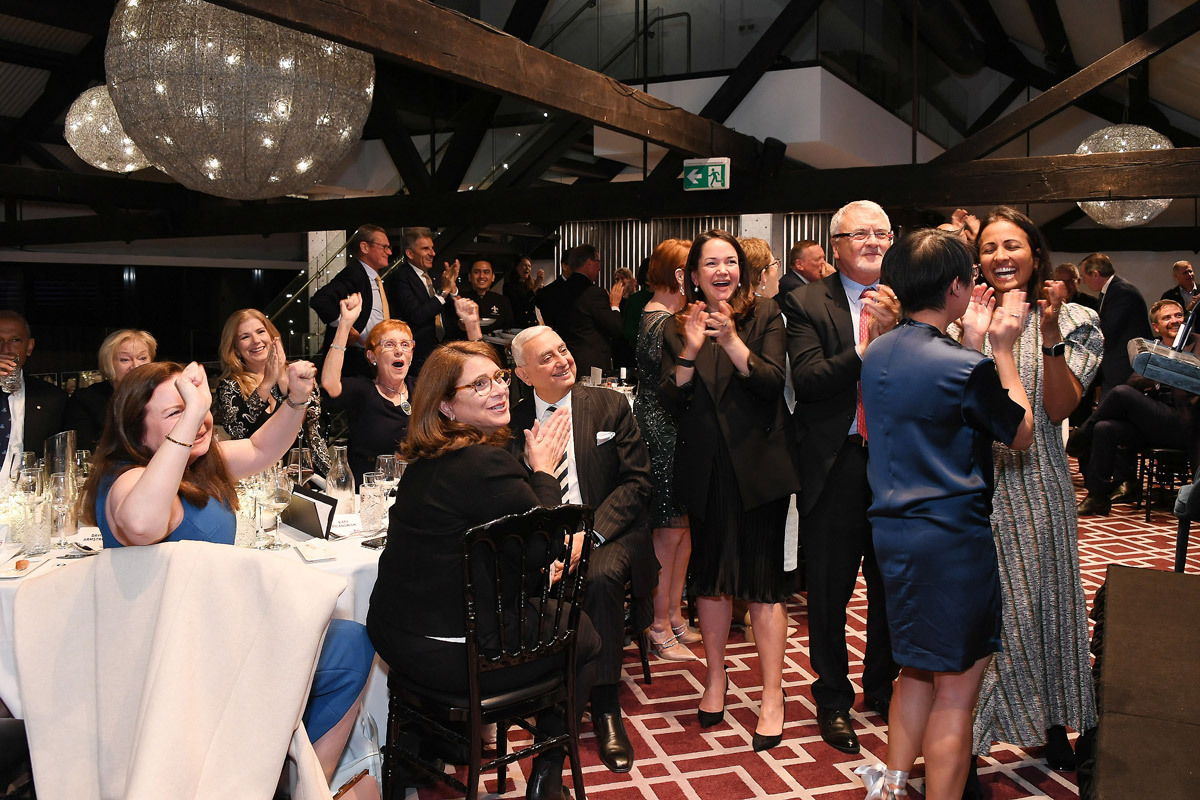 Against the backdrop of the iconic Sydney Harbour Bridge, the Centre for Social Impact celebrated its 15th anniversary with 100 esteemed guests, colleagues, partners and alumni, on Wednesday 16 August 2023.
The evening was also dedicated to honouring the invaluable contribution of our founding CEO, and outgoing National Board Chair, Professor Peter Shergold AC.
Generously sponsored by Macquarie Group Foundation and Doltone House, the event commenced with an inspirational address by the Hon. Dr Andrew Leigh MP, Federal Assistant Minister for Competition, Charities and Treasury and the Assistant Minister for Employment, an active champion of the charity sector.
Held at Jones Bay Wharf, guests also heard from Arminé Nalbandian, CEO of the Centre for Social Impact, who reflected on the Centre's great achievements and her bold vision for the future.
Arminé also formally announced the establishment of the Professor Peter Shergold Social Impact Fund , to both honour and perpetuate Peter's lifelong pursuit of positive social change for all Australians.
During half-time of the nail-biting World Cup Semi Final between Australia and England, David Gonski AC, Chair of CSI's Sydney Advisory Board spoke about the crucial role of the Centre for Social Impact in bringing together the best of academia, business and the for-purpose sector to drive social change and innovation in Australia.
In a poignant moment, Mr Gonski announced the AMP Foundation's leading commitment of $100,000 towards the fund , which will enable our university partners to collaborate on flagship research, engagement and education initiatives and to ignite meaningful social change.
Professor Peter Shergold AC was then invited to the stage for a nostalgic discussion on the Centre's history, and to share their excitement and inspiration for the decades to come.
"We have created a genuine strategic collaboration – across four universities. For me, to find this group of people who are high-level academics, strong in evidence, and who want to look outwards to have an impact on the wider society is actually quite extraordinary," Peter said.
Adding to the celebration, UNSW Vice Chancellor Atilla Brungs also announced that Peter has been awarded the title of Emeritus Professor at UNSW, in recognition of his distinguished career and commitment to academia and social impact.
The formalities concluded with a vote of thanks from Lisa George, Global Head of the Macquarie Group Foundation, which has been a loyal supporter and founding partner of our cause since we opened our doors in 2008.
It is with immense gratitude that we extend our sincere thanks to each and every one of our guests who attended the 15th anniversary celebration and contributed to the resounding success of the event.
Here's to the next 15 years of igniting meaningful social change!
Donate to the Professor Peter Shergold Social Impact Fund
15 Year Anniversary: Photo Slideshow