Professor Peter Shergold AC recognised as Emeritus Professor by UNSW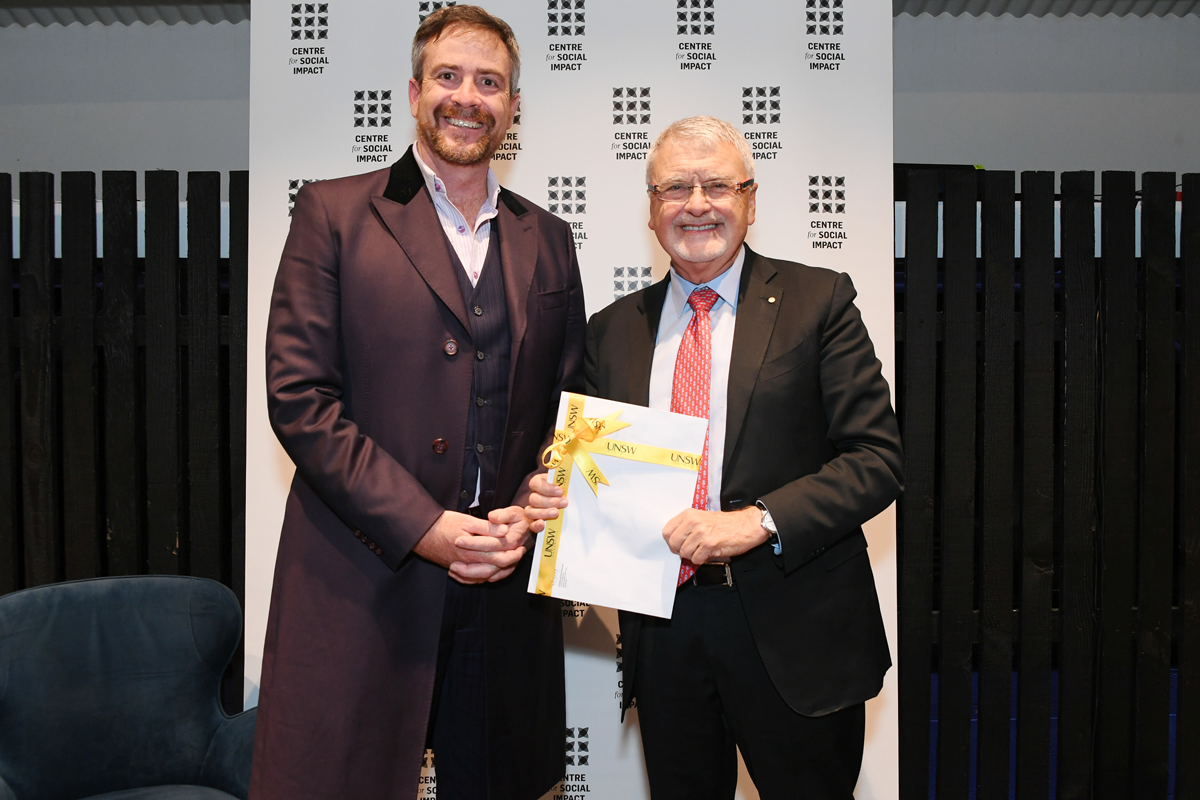 The Centre for Social Impact's founding CEO and current Board Chair, Professor Peter Shergold AC, has been honoured as an emeritus professor by UNSW at a celebration marking the Centre for Social Impact's 15th anniversary.
The announcement by UNSW Vice-Chancellor Professor Attila Brungs , recognises Professor Shergold's lifelong dedication to public service and social change, as well as his leading role in establishing the Centre for Social Impact as a cross-university collaboration uniquely committed to creating social impact across all sectors.
"We are delighted to announce Peter Shergold, who commenced at UNSW in 1972 as a lecturer in economics, as an Emeritus Professor, acknowledging his outstanding contribution to UNSW, to the sector and his enduring leadership as a founder of the Centre for Social Impact," said Professor Brungs.
Reflecting on this achievement, UNSW Chancellor David Gonski AC said: "This is a very well-deserved appointment reflecting Peter's profound commitment to the betterment of society, and I feel honored to have witnessed his enormous contribution firsthand."
Following his long involvement with the Centre for Social Impact, which began when he was approached to become CEO in 2008, Professor Shergold will step down as Board Chair at the end of 2023 after five years in the role.
He is a passionate advocate for social change, having previously spent 20 years in the public service with senior roles including as Secretary of Prime Minister and Cabinet. He served as Chancellor of Western Sydney University from 2011 to 2022.
"I am deeply honoured to be appointed the title of Emeritus Professor, and particularly during a celebration of the profound achievements of the Centre for Social Impact over 15 years," Prof Shergold said.
"Working in the public service it was clear that collaboration, both to design government policy and to deliver it, was the key to good governance. Through the collaboration of university partners at UNSW, The University of Western Australia, Swinburne University of Technology and Flinders University, the Centre for Social Impact has cemented itself as Australia's home for research and education that inspires change makers across the social impact sectors.
"Looking ahead, the work that the centre does in uncovering the most effective ways to solve complex problems will become increasingly important to our societies, and those who govern them, and I am immensely proud that we have built an institution that is so capably achieving that."
The appointment coincides with the establishment of the Professor Peter Shergold Social Impact Fund to both honour and perpetuate his lifelong pursuit of positive social change for all Australians.